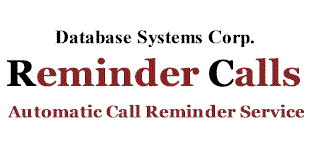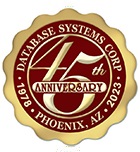 Automated Appointment Reminders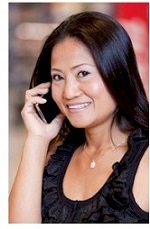 Database Systems Corp. (DSC) provides the latest technology required to send automatic appointment reminders to individuals and groups. DSC provides voice message broadcasting applications for businesses and community organizations throughout the U.S., Canada and Mexico.
Automated message broadcasting is ideally suited for appointment reminder applications and call reminder systems and services. Professional groups such as a doctor and dentist practices rely on appointment scheduling to keep their practices ongoing.
For most medical and dental practices, patient appointments must be scheduled weeks or even months ahead. Many practices use their receptionists or administrators to call their patients to remind them of the pending appointment. Using an automated appointment reminder service can free your adminstrators and clerical personnel from this task.
Benefits of Automated Appointment Reminders
This is a quote from the article How Would An Appointment Reminder Service Benefit Your Medical Practice? authored by Andy Press.
"By using an automated medical receptionist to make appointment reminder calls, you will help to increase the productivity of your medical practice by reducing no-show related stress and reducing the costs accrued by these missed appointments. All things considered, a virtual appointment reminder service will, in most cases, more than pay for itself within the very first month of acquiring these time and money saving services. Not only will this increase the bottom line of your medical practice, these appointment reminder services will increase your patient and office staff satisfaction as well."
Automatic Computer Generated Appointment Reminders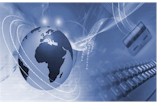 If your organization already has an appointment management system, DSC can integrate our call reminder solution with this application. This can be accomplished whether we provide a phone system or appointment reminder services at our facility.

DSC employs advanced voice XML messaging to process call reminder requests from your application.

Contact DSC to learn more about our voice reminder services including appointment reminder calling services.


---
Los Angeles Community College District

"Over the past seventy-seven years we've served as educator to more than three million students. Affordable, accessible and practical, the LACCD offers opportunity to all. Our doors are wide open for a diverse student population eager for skills, knowledge and upward mobility. LACCD educates almost three times as many Latino students and nearly four times as many African-American students as all of the University of California campuses combined. Eighty percent of LACCD students are from underserved populations." source: LACCD

LACCD uses our automatic school reminder service to contact former students and notify them of upcoming school registration. Calls are also made to students regarding upcoming school events.
---
Register Online And Save!
DSC now provides an online signup for both non-profit and business organizations wishing to use our call reminder services. Signup is easy and free! Our competitive rates are affordable, even for the smallest calling campaign.

Start Calling In Just Minutes!. Using our new online signup lets you get started immediately with your calling campaign. Simply create an account and agree to our standard terms and conditions. Then download your list of phone numbers and record a message. We accept major credit cards and for as little as $25, you can begin calling. Its that simple!

Both emergency and non-emergency call reminder services can be provided by DSC.

To register online, click on the the online registration image or button on the right.


---
Automated Appointment Reminder Services
The following are just a few of the different types of appointment reminder services that our automated phone systems can perform.
Contact Us Today
Contact DSC to learn more about our call center technology products, software and services.