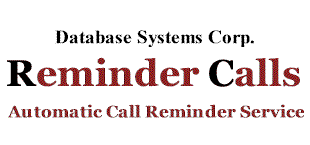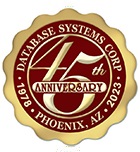 List Of Phone Reminder Applications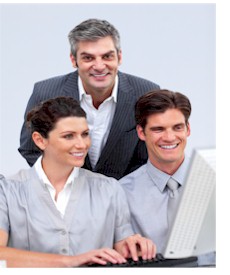 Database Systems Corp. (DSC) has developed voice broadcasting applications for businesses and community organizations for many years. Our call center technology has received industry awards for its features and innovation.

DSC has created a directory of call reminder customer applications that our site visitors can view. As new and innovative applications are envisioned by our customers, we will include them in this directory.

Our professional staff of voice broadcast programmers can analyse your phone application and develop it to your specification. Your call reminder campaign does not have to conform to a canned application. Instead our voice reminder systems and services will process your reminder calls according to your business model.

Contact DSC to learn more about our automatic phone answering services and phone systems plus our voice broadcast outsourcing services.
Reminder Software
Call reminders can be managed easily from your own computer using our call reminder software. DSC provides a client program that can be downloaded onto your computer that manages your calling campaigns. Here's how it works:
Register with DSC - First, register your reminder program with DSC.
Create or export your call lists - Use DSC's flexible list format to create a reminder list.
Record your reminder - Call DSC's 800 phone number and record your phone message.
Pay online using Verisign - DSC estimates the charge based upon your phone list.
Start your call reminder campaign - Begin the calls by hitting the proceed button.
That's it! Once you've registered with DSC, you are free to send any number of reminder lists for calling. Payment in advance allows you to send multiple reminders as long as your account has sufficient funds. Our program monitors usage and will remind you when your funds are insufficient to make more calls.
Reminder Service Applications
Reminder calls can be used in a wide variety of applications. Here is just a sample of these automated phone reminder applications:
Contact Us Today
Contact DSC to learn more about our call center technology products, software and services including our latest text message reminder capability.